評級:三級歷史建築三座(門樓、吳氏宗祠、天后宮)
衙前圍村是香港碩果僅存的城中圍村,有逾六百年歷史。村民姓吳、陳、李為主,相傳三姓先祖均為宋代朝廷命官,跟隨宋帝昺南下,亡國後在此聚居建村。清初的遷界令曾令村民倉促離家以致四散,復界後才重返村莊,並於雍正二年(1724年)建成圍牆及門樓以抵禦土匪。村內的天后宮亦於雍正年間建成,是村民十年一度舉行打醮酬神儀式的場所。
衙前圍村曾多次面臨滅村危機,苦陷於官商收地拉鋸中逾三十年,最後一戶住戶於2016年正式被政府強制收回土地。重建工程展開後,因發現屬明、清時期建造的圍牆及更樓等遺跡,引起要求原址保育的呼籲。
粵語:

國語:

Grading: Grade 3 (Entrance Gate, Ng Ancestral Hall & Tin Hau Temple)
With more than 600 years of history, Nga Tsin Wai Village is one of the few remaining walled villages situated in the urban area of Hong Kong. The village was mainly resided by members of the Ng, Chan, and Lee clans. It was said that the ancestors of the three families were central government officials of the Song Dynasty, who followed Zhao Bing, the last emperor of Song, and travelled south to Hong Kong. After the fall of the Song Dynasty, they lived closely together and established the village. In the early Qing Dynasty, an evacuation of the southern coast was ordered. Villagers had to leave their homes in a rush. They moved to different locations and only returned to the village after the order was lifted. In 1724, during the second year of the reign of Qing Emperor Yongzheng, the villagers built walls and a gate tower to prevent the invasion of bandits. The Tin Hau Temple in the village was also built during the Yongzheng period. It was the place where villagers celebrated the Ta Chiu festival every ten years to give thanks to the deities for their blessings.
Nga Tsin Wai Village was at risk of demolition several times. Issues concerning the resumption of land by the government and private developers dragged on for more than 30 years. In 2016, the government forcibly took over the land from the last occupants of the village. After redevelopment work of the village began, relics dating back to the Ming and Qing dynasties including the walls and watch towers in the village were unearthed, leading to calls for conservation of the site.
https://soundcloud.com/user-775750881/051e/s-rm9BnEDBrsM?si=d1cb4c0a17cf4109b500131b268a8ef6
「『古蹟留聲機』- 細聽100個香港古蹟小故事」計劃由衞奕信勳爵文物信託資助。
The project is supported by Lord Wilson Heritage Trust.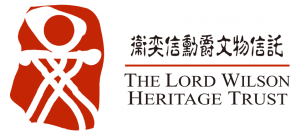 / 關於我們
CACHe於2005年成立,一直積極舉辦古蹟保育活動。我們將繼續秉承宗旨,推廣香港歷史文化,建立知識交流平台,鼓勵大眾參與社區文化遺產保育,建立社區身份認同。
/ 查詢方法
電話: 2291 0238
電郵: info@cache.org.hk
網頁: www.cache.org.hk