評級:三級歷史建築
這列民居原址是於1880至1890年代間興建的豪華大宅「何家園」。1941年,日軍拆毀大宅並興建一列兩層高的中式平房作徙置區,稱為侯王廟新村。戰後大量移民湧入香港,鄰近一帶變成寮屋區。1950年代,寮屋區內開設了多間片場,及後山寨廠和工場更是繁盛。石屋就曾作為電影製片公司的貨倉和「藍恩記」製作山墳墓碑的工場,其招牌仍保留至今。寮屋區最終於2001年清拆,僅存這五幢石屋。
石屋在2015年活化為「石屋家園」,保留了石屋的花崗岩外牆、金字瓦頂、屋內的木樓梯、木地板、木鎖和石插孔等建築特色。
粵語:

國語:

Grading: Grade 3
This is the site where "Ho Ka Yuen", a luxurious mansion built between the 1880s and the 1890s, was situated. The house was demolished by the Japanese army in 1941. The site was subsequently converted into a resettlement area, where a row of two-storey Chinese-style cottages, known collectively as the Hau Wong Temple New Village, was built. After the Second World War, the neighbourhood was turned into a squatter area due to an influx of immigrants into Hong Kong. During the 1950s, several film studios were established in the squatter area. This was followed by a time when cottage factories and industrial workshops flourished. The Stone Houses were once used for storage by film production companies, and rented by Nam Yan Kee, a grave and tombstone manufacturing company, as industrial workshops. The signboard of Nam Yan Kee has been preserved on the facade of the Stone Houses. The squatter area was cleared in 2001, with only five stone houses remaining on the site.
In 2015, the houses were revitalised and renamed the "Stone Houses Family Garden". Many architectural features — including the granite facades and pitched tiled roofs of the houses, as well as interior components, such as the wooden staircases, wooden flooring, wooden locks, and stone sockets — have been preserved.
「『古蹟留聲機』- 細聽100個香港古蹟小故事」計劃由衞奕信勳爵文物信託資助。
The project is supported by Lord Wilson Heritage Trust.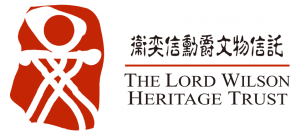 / 關於我們
CACHe於2005年成立,一直積極舉辦古蹟保育活動。我們將繼續秉承宗旨,推廣香港歷史文化,建立知識交流平台,鼓勵大眾參與社區文化遺產保育,建立社區身份認同。
/ 查詢方法
電話: 2291 0238
電郵: info@cache.org.hk
網頁: www.cache.org.hk