評級:一級歷史建築
本地商人、社會領袖和著名學者於1928年共同創辦孔聖堂,推廣儒學,而眼前所見的孔聖講堂後於1935年落成啟用。講堂是現存歷史最悠久,以弘揚儒家思想的建築。
講堂早年每天都有講師宣講儒學之道,更會每年慶祝孔聖誕及孟子誕。孔聖堂主張包容和開放,強調其並非宗教組織,歡迎任何人士了解儒學。在1962年前,第二代香港大會堂尚未開幕,香港缺乏大型文化設施,講堂便成為重要的文化活動場所。孔聖堂接受不同學術及政治理念的團體或學者借用講堂,即使是主張「打倒孔家店」的新文學家亦曾在內舉辦講座。
粵語:

國語:

Grading: Grade 1
Confucius Hall was co-founded in 1928 by a group of local businessmen, community leaders, and eminent scholars to promote Confucianism. The building in front of you was completed in 1935. It is the oldest surviving building that has been used for propagating the teachings of Confucius.
During the early years, lectures on Confucianism were given in the hall every day. There were also annual ceremonies to celebrate the birthdays of Confucius and Mengzi. Confucius Hall advocates inclusiveness and openness. It stresses that it is a non-religious organisation, and it welcomes everyone to learn about Confucianism. Before the opening of the new Hong Kong City Hall in 1962, there were few large-scale cultural facilities in Hong Kong. The Confucius Hall was therefore an important cultural venue in the city, which has been lent to groups and scholars with different academic and political beliefs, including some new literature authors who had criticised Confucianism by chanting the slogan "Down with the Confucian shop".
「『古蹟留聲機』- 細聽100個香港古蹟小故事」計劃由衞奕信勳爵文物信託資助。
The project is supported by Lord Wilson Heritage Trust.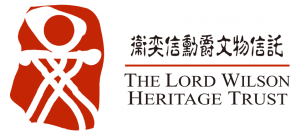 / 關於我們
CACHe於2005年成立,一直積極舉辦古蹟保育活動。我們將繼續秉承宗旨,推廣香港歷史文化,建立知識交流平台,鼓勵大眾參與社區文化遺產保育,建立社區身份認同。
/ 查詢方法
電話: 2291 0238
電郵: info@cache.org.hk
網頁: www.cache.org.hk