評級:法定古蹟
東龍洲炮台的確實建造年份不明,據《新安縣志》記載,炮台於康熙年間(1662至1722年)興建,亦有史籍記載炮台為兩廣總督楊琳於任內(1719至1724年)下令建造。炮台位置能夠俯瞰佛堂門海峽,扼守商船的主要航線,亦是軍事要點。可是由於補給困難,炮台自1810年起荒廢,原有的軍隊和軍備遭撤走。炮台昔有十五所營房和八門大炮,但現時損毀嚴重、已失去原形,只剩下外圍的青磚石牆和一格格的軍營地基。
東龍洲亦有香港境內最早有文獻記載、同時亦是最大的石刻,石刻紋路複雜,但龍形清晰可見,有學者認為此石刻應屬於四千多年前新石器時代晚期。
粵語:

國語:

Grading: Declared Monument
It is unclear when exactly the Tung Lung Fort was built. According to the Gazetteer of Xin'an County, the fort was constructed between 1662 and 1722 during the reign of Emperor Kangxi; other historical records show that the structure was ordered to be built by Yang Lin during his term as Viceroy of Guangdong and Guangxi between 1719 and 1724. The place where the fort is situated was an important military post overlooking the major routes of merchant ships on the Fat Tong Mun Channel. However, due to difficulties in replenishing supplies, the fort has been left derelict since 1810, with troops and armaments removed from the site. There were fifteen guardhouses and eight canons at the fort, but they have been severely damaged and deformed. What remains on the site are the external wall of brick and stone and the foundation of the structure.
According to historical records, the first rock carving discovered in Hong Kong is situated at Tung Lung Chau. It is also the largest rock carving ever found in the city. Patterns in the carving are complicated, but the shape of a dragon can be clearly seen. Some scholars believe that the carving dates back to the late Neolithic period, which was about four thousand years from the present.
「『古蹟留聲機』- 細聽100個香港古蹟小故事」計劃由衞奕信勳爵文物信託資助。
The project is supported by Lord Wilson Heritage Trust.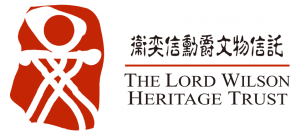 / 關於我們
CACHe於2005年成立,一直積極舉辦古蹟保育活動。我們將繼續秉承宗旨,推廣香港歷史文化,建立知識交流平台,鼓勵大眾參與社區文化遺產保育,建立社區身份認同。
/ 查詢方法
電話: 2291 0238
電郵: info@cache.org.hk
網頁: www.cache.org.hk