評級:法定古蹟
二帝書院的由來與皇帝無關,書院原址本為一座文塔,供奉文昌帝和關聖帝,據說風水塔保佑了不少鄧族子弟高中功名。後來文塔被毀,可幸族中有識之士重視教育,因此合資興建書院,並重新供奉文武二帝,書院亦因而得名。
二帝書院可算是當時的名校,不少著名學者曾在此講學。這座呈長方形的兩進式建築佈局獨特,入口在建築的側面而非正面,踏入書院時會經過一條由白石鋪砌的小巷,學生被稱為「白石巷子弟」,是一種身份象徵。
隨着香港推行現代教育,二帝書院演變成一所小學,惟在二戰後停用。書院於1992年重修,現開放予民眾參觀。
粵語:

國語:

Grading: Declared Monument
Yi Tai Study Hall, also known as Two Emperors Study Hall, has nothing to do with the emperor. Initially, a feng shui pagoda was built on the site to worship two deities — Man Cheong, the civil god of literacy and Kwan Yu, the martial god. It was said that many men of the Tang clan were blessed by the pagoda and achieved success in the imperial examination. However, the pagoda was later destroyed. It was replaced by a study hall, built with funding from a group of learnt men recognising the importance of education. The two deities, which gave the new building its name, continued to be worshipped in the study hall.
Yi Tai Study Hall was a prestigious school at the time. Many renowned scholars had given lectures here. The study hall is a two-hall rectangular structure with a unique layout. The entrance is located on the side, instead of the front, of the building. Before entering the study hall, one had to pass through a narrow way paved with white stones. Those who attended the study hall were therefore known as "Students of the White Stone Lane", a title that was regarded as a symbol of status at the time.
With the introduction of modern education in Hong Kong, Yi Tai Study Hall was transformed into a primary school, which ceased operation after the Second World War. The building was restored in 1992 and is currently open to the public for visiting.
「『古蹟留聲機』- 細聽100個香港古蹟小故事」計劃由衞奕信勳爵文物信託資助。
The project is supported by Lord Wilson Heritage Trust.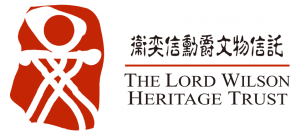 / 關於我們
CACHe於2005年成立,一直積極舉辦古蹟保育活動。我們將繼續秉承宗旨,推廣香港歷史文化,建立知識交流平台,鼓勵大眾參與社區文化遺產保育,建立社區身份認同。
/ 查詢方法
電話: 2291 0238
電郵: info@cache.org.hk
網頁: www.cache.org.hk