評級:一級歷史建築
位於元朗舊墟的晉源押是香港現存最古老的當舖建築,於18世紀中後期創立。墟市是村民和商人定期交易的重要市場,而晉源押在其中的角色就尤其重要。當商人在採購時現金不足,或是村民一時周轉不靈,均會到店舖抵押財物借貸。可惜墟市不敵二戰戰火而停業,晉源押也因此關閉。戰後,當舖一度改為住宅,現時則重門深鎖,閒置多時。
晉源押外形保存良好,木製趟櫳正門、青磚牆身,地基更用上三層麻石,堅固防水,突顯財力。晉源押旁邊還設有保險儲物庫,樓高兩層,裝有四面闊槍孔,內有鐵製大夾萬和木製貨架儲存典當的貨物。
粵語:

國語:

Grading: Grade 1
Established between mid and late 18th century in Yuen Long Old Market, Chun Yuen Pawn House is the oldest pawn shop in Hong Kong. The shop played an important role in the market, where trade was carried out on a regular basis. Merchants or villagers who needed cash to trade borrowed money from the shop by pawning their properties. During the Second World War, Chun Yuen Pawn House had to be closed as the market ceased operation. The shop was once converted into a residential dwelling after the war. For years, the place has been left vacant, with its doors tightly shut.
The exterior of the green brick structure was kept in good repair, featuring a wooden sliding door at the front entrance, and a strong and waterproof foundation constructed with three layers of granite, showing the wealth of the building owner. Next to the pawn house is a two-storey high security storage warehouse built with firearm embrasures. Inside, there was a big iron safe and some wooden shelves for storing pawned items.
「『古蹟留聲機』- 細聽100個香港古蹟小故事」計劃由衞奕信勳爵文物信託資助。
The project is supported by Lord Wilson Heritage Trust.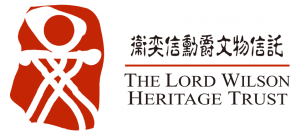 / 關於我們
CACHe於2005年成立,一直積極舉辦古蹟保育活動。我們將繼續秉承宗旨,推廣香港歷史文化,建立知識交流平台,鼓勵大眾參與社區文化遺產保育,建立社區身份認同。
/ 查詢方法
電話: 2291 0238
電郵: info@cache.org.hk
網頁: www.cache.org.hk