圖片來源:香港特別行政區政府新聞處。 Photo Credit: Information Services Department of the Government of the HKSAR.
評級:法定古蹟
1955年,工人在興建李鄭屋邨時發現低調地埋藏在山坡裏的古墓,是香港開埠以來最轟動的考古發現,亦是迄今境內發現的唯一一座漢代墓葬。古墓用磚砌成,佈局呈十字形,有四個墓室,共出土58件文物。學者推斷古墓建於東漢時期,規模和陪葬品種類也顯示墓主很大機會是宮吏或富有的商人。這座具規模的古墓印證了香港並非只有百多年歷史,而是在漢代已有相當的文明發展,配合其他漢代文化遺址,可以反映香港先民的生活面貌。
值得一提的是,古墓因鄰近李、鄭屋村才命名為李鄭屋漢墓,與古墓的歷史和墓主名字並無關係。
粵語:

國語:

Grading: Declared Monument
In 1955, workers at the construction site of Lei Cheng Uk Estate discovered an ancient tomb that was buried unobtrusively under the hill. The tomb was regarded as the most stirring archaeological discovery in Hong Kong at the time, and is, to date, the only one from the Han Dynasty found within the territory of the city. Built in the shape of a cross, the brick tomb is composed of four chambers, from which fifty-eight objects were unearthed. Scholars believe that the tomb was built in the Eastern Han Dynasty. The scale of the tomb and the funerary objects suggest that the tomb likely belonged to a government official or a wealthy merchant from the period. The large ancient tomb, established more than a thousand years ago, proves the long history of Hong Kong. It is evident that there were well-developed forms of civilisation back in the Han Dynasty. Together with other cultural heritage from the Han Dynasty, the tomb provides an account of the lives of early settlers in Hong Kong.
It's worth noting that the tomb is so named because of its proximity to Li Uk and Cheng Uk. The name itself does not give any information about the history or the owner of the tomb.
「『古蹟留聲機』- 細聽100個香港古蹟小故事」計劃由衞奕信勳爵文物信託資助。
The project is supported by Lord Wilson Heritage Trust.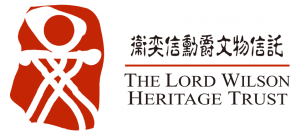 / 關於我們
CACHe於2005年成立,一直積極舉辦古蹟保育活動。我們將繼續秉承宗旨,推廣香港歷史文化,建立知識交流平台,鼓勵大眾參與社區文化遺產保育,建立社區身份認同。
/ 查詢方法
電話: 2291 0238
電郵: info@cache.org.hk
網頁: www.cache.org.hk