評級:一級歷史建築
茅湖山觀測台又稱茅湖廢堡,確實建成年份已無從稽考,從文獻推算觀測台早於英國租借新界之前已建成,估計是清朝佛頭洲海關的觀測台。清廷曾在佛頭洲設立稅關,向鴉片貿易抽取釐金,茅湖山觀測台居高臨下,方便監察整個海峽的活動。
遺跡內兩幢建築估計是用附近開採的火山岩砌成,圓形碉堡應是瞭望塔,原有兩層高,可從塔內透過窗戶觀測海峽活動。長方形金字頂石屋的天花已塌下,估計是駐守觀測台的人員之營房。
遺跡曾受遊人嚴重破壞,牆身被塗鴉,石磚被拆下,加上長期閒置,現已殘破不堪。遺跡現已被鐵絲網圍封,有待進一步保育。
粵語:

國語:

Grading: Grade 1
The Observation Post at Mau Wu Shan is also known as the "Mau Wu Abandoned Fortress". While it remains unclear when exactly it was built, it is believed, based on available information, that the observation post was constructed before the British leased the New Territories in 1898, and that it was used by the customs office of the Qing Dynasty. At the time, the Qing government established a customs station at Fat Tau Chau to collect tax on opium trade. The observation post was built on the hill to allow the Qing officers to monitor activities on the sea.
The two structures on the site are believed to be built of volcanic rocks extracted from nearby locations. The cylindrical fortified tower is the observation post. The tower was originally two-storey high, and one could observe activities on the sea through its windows. The rectangular stone hut, with part of its pitched roof collapsed, is believed to serve as a barrack for the officers who were stationed at the observation post.
The ruins have been heavily vandalised by tourists, with walls defaced with graffiti and some stones removed from the structures. Having been left unattended for a long time, the site, surrounded by wire fencing, is dilapidated and requires further conservation treatment.
「『古蹟留聲機』- 細聽100個香港古蹟小故事」計劃由衞奕信勳爵文物信託資助。
The project is supported by Lord Wilson Heritage Trust.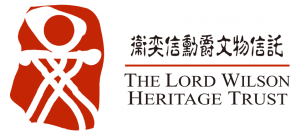 / 關於我們
CACHe於2005年成立,一直積極舉辦古蹟保育活動。我們將繼續秉承宗旨,推廣香港歷史文化,建立知識交流平台,鼓勵大眾參與社區文化遺產保育,建立社區身份認同。
/ 查詢方法
電話: 2291 0238
電郵: info@cache.org.hk
網頁: www.cache.org.hk