評級:法定古蹟
以往香港透過定時降下時間球作為報時,讓遠洋船員校準船上時鐘。1907年,時間球由前水警總部遷到黑頭角新建的訊號塔。「大包米訊號塔」的名字據說是因當時黑頭角的山勢隆起,猶如裝滿白米的米袋而來。訊號塔除了每日提供報時服務外,更會在颱風來臨時懸掛熱帶氣旋警告訊號。為免訊號塔被附近的高樓遮擋,訊號塔在1927年加建一層至約62呎高。隨着科技進步,報時服務在1933年終止。現時我們仍然可以在一樓和二樓發現過去擺放機器的痕跡。花園內有數塊少人關注但具歷史價值的軍事界石,其中一塊估計與鄰近九龍東炮台有關。
粵語:

國語:

Grading: Declared Monument
In the old days of Hong Kong, there was a timekeeping device that signalled the hour to the entire city. A large ball mounted on a mast was dropped at an exact time every day to allow mariners to set their chronometers accurately. In 1907, the time ball, originally located in the former Marine Police Headquarters, was moved to the then newly built Signal Tower at Blackhead Point. The tower was known to local residents as "Tai Pau Mai" — meaning "a big bag of rice" in Chinese — due to the bulging shape of the hill on which the tower was built. Apart from informing the public of the hour of the day, the tower also sent out warning signals when there was a typhoon. To prevent the tower from being blocked by the high-rises nearby, a storey was added to the building in 1927, giving it a total height of around 62 feet. With the advancement of technology, the time ball became redundant and was hoisted for the last time in 1933. Traces of the timekeeping device could be found on the first and second floors of the tower, where the ball used to be placed. Several boundary stones used for military purposes were erected in the garden of the tower. It is believed that one of the stones has links to the history of the nearby Kowloon East Battery.
「『古蹟留聲機』- 細聽100個香港古蹟小故事」計劃由衞奕信勳爵文物信託資助。
The project is supported by Lord Wilson Heritage Trust.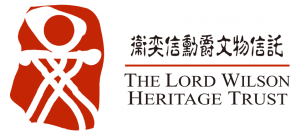 / 關於我們
CACHe於2005年成立,一直積極舉辦古蹟保育活動。我們將繼續秉承宗旨,推廣香港歷史文化,建立知識交流平台,鼓勵大眾參與社區文化遺產保育,建立社區身份認同。
/ 查詢方法
電話: 2291 0238
電郵: info@cache.org.hk
網頁: www.cache.org.hk