評級:法定古蹟
九廣鐵路英段在1910年通車,是香港第一條重型鐵路。尖沙咀火車總站早期位於一個租用貨倉,至1913年才正式興建,三年後落成啟用。當時鐘樓的時鐘裝置尚未抵港,暫用畢打街鐘樓所拆卸的時鐘,到了1920年改用四面電鐘,方便向乘客報時。1975年,九廣鐵路將總站改到紅磡,尖沙咀火車站結束歷史任務。殖民地政府拆卸整個火車站的計劃惹來極大迴響,最後保留鐘樓作為歷史標記。火車站大樓拆卸後,原址興建文化中心。
鐘樓見證九廣鐵路連接了香港的城鄉,對當時的新界村民來說,乘搭火車「出城」已是相當難得的旅程。
粵語:

國語:

Grading: Declared Monument
Opened in 1910, Kowloon-Canton Railway (British Section) was the first heavy rail in Hong Kong. During its early days, the Tsim Sha Tsui railway terminus was located at the site of a rented warehouse. The terminus began construction in 1913, and was completed three years later, with the Clock Tower as an accompanying feature. At that time, mechanical components of the Clock Tower had yet to be delivered to Hong Kong, and the clock from the demolished Pedder Street Clock Tower was reused. In 1920, a four-sided electric clock was installed in the Clock Tower to welcome passengers arriving at the Tsim Sha Tsui terminus. Having served its day and generation, the railway terminus was relocated in 1975 to Hung Hom. The plan of the colonial government to remove the entire terminus caused great concern among the public. In the end, the terminus building was demolished to make way for the construction of the Hong Kong Cultural Centre, while the Clock Tower was preserved as a historic landmark.
The Clock Tower represents the history of the Kowloon-Canton Railway, which connected different parts of Hong Kong. In the past, being able to take the train was something special to villagers from the New Territories, especially to those who rarely travelled to the downtown area of the city.
「『古蹟留聲機』- 細聽100個香港古蹟小故事」計劃由衞奕信勳爵文物信託資助。
The project is supported by Lord Wilson Heritage Trust.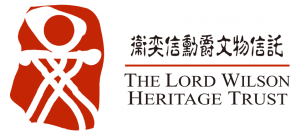 / 關於我們
CACHe於2005年成立,一直積極舉辦古蹟保育活動。我們將繼續秉承宗旨,推廣香港歷史文化,建立知識交流平台,鼓勵大眾參與社區文化遺產保育,建立社區身份認同。
/ 查詢方法
電話: 2291 0238
電郵: info@cache.org.hk
網頁: www.cache.org.hk