鳴謝劉國偉先生提供照片。 Photos courtesy of Mr Lau Kwok Wai.
評級:法定古蹟
舊上環街市原有南北兩座,1858年落成的南座大樓已被拆卸。現存的上環街市北座大樓在1906年擴建而成,是香港現存最古老的街市建築。舊上環街市曾在日佔時期被徵用作米倉,至重光後才恢復街市用途。
大樓佈局左右對稱,樓底特高,牆身以紅磚和粉飾灰泥營造出紅白相間效果,並以中式金字瓦頂幫助排走雨水,揉合了中西方的建築特色。大樓設計亦考慮到街市濕滑的環境,在接近地面的牆身建造通風口,地板更有防滑坑紋。
街市在1989年起因商戶搬遷至旁邊的新市政大樓而空置,於1991年活化為「西港城」。
粵語:

國語:

Grading: Declared Monument
The Western Market consisted of two separate blocks — the South and North Blocks. The former, built in 1858, has been demolished. Expanded and completed in 1906, the existing North Block is the oldest market building in Hong Kong. The market was used as a rice granary during the period of Japanese occupation in the Second World War. It was after the liberation of Hong Kong that the market resumed its original purpose.
The Western Market has a high ceiling and a symmetrical layout. Its walls are finished with red brick and plaster, forming a pattern of red and white stripes on the facades. The building, integrating Chinese and Western architectural elements, has a pitched Chinese-tiled roof that allows rainwater to flow down easily. The design also takes into account the wet environment of the market. The floor of the building features a non-slip surface, above which the walls are fitted with air vents.
The market was left vacant after vendors were relocated in 1989 to the municipal services building nearby. The building was then revitalised in 1991.
「『古蹟留聲機』- 細聽100個香港古蹟小故事」計劃由衞奕信勳爵文物信託資助。
The project is supported by Lord Wilson Heritage Trust.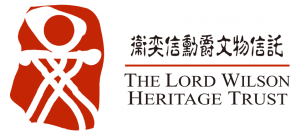 / 關於我們
CACHe於2005年成立,一直積極舉辦古蹟保育活動。我們將繼續秉承宗旨,推廣香港歷史文化,建立知識交流平台,鼓勵大眾參與社區文化遺產保育,建立社區身份認同。
/ 查詢方法
電話: 2291 0238
電郵: info@cache.org.hk
網頁: www.cache.org.hk