鳴謝劉國偉先生提供照片。 Photos courtesy of Mr Lau Kwok Wai.
評級:法定古蹟
聖約翰座堂於1849年建成,是香港現存最古老的基督教會建築物。在香港現行法律下,所有土地的業主只有若干年期的擁有權,但位處殖民地政府權力核心「政府山」的聖約翰座堂是香港唯一一幅不限年期、永久屬於業權者持有的土地。教堂於二戰時曾被炮彈擊中,幸好沒造成大規模破壞,其後在日佔時期被徵用為日本人的會所。
教堂以哥德式風格興建,但由於技術和材料所限,比一般哥德式建築簡約,但仍保留尖塔、尖頂窗、彩繪玻璃等特色。教堂北座有一扇窗繪有東方的帆船和漁民,同時亦有西方的船艦和水手,反眏岀香港華洋共處的特點。
粵語:

國語:

Grading: Declared Monument
Completed in 1849, St John's Cathedral is the oldest Anglican church building in the city. Under the laws of Hong Kong, all landowners can only be granted ownership of lands for a fixed period of time. St John's Cathedral is, however, an exception. Situated on the "Government Hill" — the centre of power of the colonial administration — the land on which the cathedral stands was the only one in Hong Kong that was granted freehold with perpetual ownership. The building was hit by bombs in the Second World War. Fortunately, no extensive damage was done. During the occupation period that followed, the cathedral was requisitioned by the Japanese as a social club.
Due to the technology and materials available at the time, the cathedral has a simpler design than other Gothic architectures, but still includes some important Gothic features, such as spires, lancet windows, and stained glass windows. A window of the north transept of the cathedral is painted with Eastern sailboats and fishermen as well as Western vessels and sailors, showing the uniqueness of Hong Kong as a multicultural city inhabited by Chinese and Westerners.
「『古蹟留聲機』- 細聽100個香港古蹟小故事」計劃由衞奕信勳爵文物信託資助。
The project is supported by Lord Wilson Heritage Trust.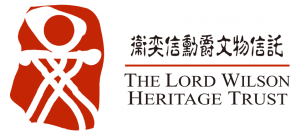 / 關於我們
CACHe於2005年成立,一直積極舉辦古蹟保育活動。我們將繼續秉承宗旨,推廣香港歷史文化,建立知識交流平台,鼓勵大眾參與社區文化遺產保育,建立社區身份認同。
/ 查詢方法
電話: 2291 0238
電郵: info@cache.org.hk
網頁: www.cache.org.hk