評級:一級歷史建築
這建築估計於1878年中環大火後翌年重建而成,經歷鼠疫和多次風災,仍屹立不倒,是香港現存最古老的唐樓。自1903年政府為避免鼠疫傳播、立法規定唐樓背後必須留有後巷開始,這唐樓成為香港碩果僅存的「背靠側」唐樓,同期建築有附近閣麟街的「背靠背」唐樓群遺跡。唐樓仍保留了青磚牆、傳統金字瓦頂、木樓梯等原有建築特色,非常珍貴。
「永和號」在1930年代起在此經營海味雜貨店,是區內受歡迎的傳統雜貨店,曾在日佔時期歇業,一度成為鹽糖倉庫,最後於2009年結業。
粵語:

國語:

Grading: Grade 1
This building at 120 Wellington Street is believed to be constructed in the year after a massive fire in Central in 1878. Having survived from the bubonic plague and many typhoons, this oldest tenement building, or Tong Lau in the local language, is still standing today. To prevent the spread of the plague, the government enacted a law that required new buildings erected after 1903 to have a scavenging lane behind. Since then, this building has become one of the few remaining tenement houses in Hong Kong that is back-to-side to adjoining buildings. Other buildings of the same period include the back-to-back tenement houses remained on Cochrane Street. Many of the original architectural features of this building, such as green brick walls, traditional pitched roof, and wooden staircases, are of high historical values and have been preserved till date.
The Wing Woo Grocery, a popular shop in the community that had sold dried seafood and daily commodities since the 1930s, was located in this building. During the Japanese occupation period, the shop ceased operations and was used as a storage space for salt and sugar. The business was eventually closed down in 2009.
「『古蹟留聲機』- 細聽100個香港古蹟小故事」計劃由衞奕信勳爵文物信託資助。
The project is supported by Lord Wilson Heritage Trust.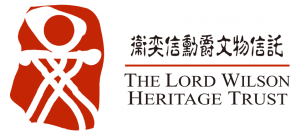 / 關於我們
CACHe於2005年成立,一直積極舉辦古蹟保育活動。我們將繼續秉承宗旨,推廣香港歷史文化,建立知識交流平台,鼓勵大眾參與社區文化遺產保育,建立社區身份認同。
/ 查詢方法
電話: 2291 0238
電郵: info@cache.org.hk
網頁: www.cache.org.hk