評級:一級歷史建築
些利街的回教清真禮拜堂,是香港最古老的清真寺。
鴉片戰爭前後,不少英國商船在香港停泊,在港定居的商人和海員中不乏回教徒,加上英國佔領香港後從印度招募警察,亦令回教徒數目增多。他們主要在中上環聚居,1849年時曾興建一所石屋作禮拜之用,後來因教徒數目漸多,石屋於1915年重建為清真寺,保留原有的尖塔。
穿過繡花門,眼前便是淡綠色的清真寺。抬頭一看,會看見標誌性的呼拜塔,塔頂有新月和星星標誌,過往工作人員會在塔上呼叫以提醒教徒前來禮拜。清真寺旁邊還有一幢唐樓,收容苦無居所的貧苦教徒。
粵語:

國語:

Grading: Grade 1
The Jamia Mosque on Shelley Street is the oldest mosque in Hong Kong.
Around the time of the Opium Wars, many British merchant ships berthed in Hong Kong. A lot of merchants and seamen staying in Hong Kong were Muslims. Besides, the colonial government recruited many policemen from India, leading to a growth in the number of Muslims in the city. Most of the Muslims resided in the Central and Sheung Wan districts. In 1849, a stone house was built for Islamic worship. Then in 1915, due to the increasing Muslim population, it was rebuilt as a mosque, with the original minaret retained.
The pale green mosque is situated behind an intricately carved gate. If you look up, you will see the mosque's iconic minaret with the Islamic new moon and star emblem mounted on its top. In the past, officials of the mosque stood on the minaret to call worshippers to prayer. Next to the mosque is a tenement house that provides shelter for Muslims.
「『古蹟留聲機』- 細聽100個香港古蹟小故事」計劃由衞奕信勳爵文物信託資助。
The project is supported by Lord Wilson Heritage Trust.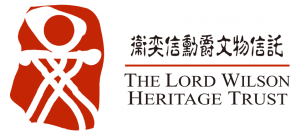 / 關於我們
CACHe於2005年成立,一直積極舉辦古蹟保育活動。我們將繼續秉承宗旨,推廣香港歷史文化,建立知識交流平台,鼓勵大眾參與社區文化遺產保育,建立社區身份認同。
/ 查詢方法
電話: 2291 0238
電郵: info@cache.org.hk
網頁: www.cache.org.hk