鳴謝劉國偉先生提供照片。 Photos courtesy of Mr Lau Kwok Wai.
評級:法定古蹟一座(高街舊精神病院立面);二級歷史建築兩座(東邊街舊華人精神病院主樓、東邊街舊華人精神病院職員宿舍
在香港有第一座精神病院前,精神病者被視為瘋人,更會被囚禁於監獄內,至十九世紀末才有所改變。
東邊街這座紅磚建築,是1891年落成的華人精神病院。旁邊以花崗石砌成的建築建於1892年,原本是國家醫院的外籍護士宿舍,後來因為鄰近的精神病院不敷應用,便改建為女子精神病院,兩者連同已拆卸的歐籍精神病院合稱為域多利精神病院,於青山醫院落成後停用,華人精神病院改為美沙酮診所。而女子精神病院在1970年代起空置約四十年,街坊稱之「高街鬼屋」,病院最終在2001年拆卸並重建,只保留了我們眼前所見的花崗石立面和遊廊。
粵語:

國語:

Grading: Declared Monument (Facade of the Old Mental Hospital, High Street); Grade 2 Historic Building (Old Lunatic Asylum Chinese Block Main Building & Staff Quarters)
Before the first mental hospital was established in Hong Kong, people with mental illnesses were seen as lunatics and held in prisons. It was until the end of the 19th century that things started to change.
Completed in 1891, this red brick building on Eastern Street was the Chinese Lunatic Asylum. The granite structure next to it, built in 1892, was originally the dormitory for the foreign nurses serving at the Government Civil Hospital. To relieve the overcrowded condition of the lunatic asylum, the dormitory was later converted into wards for mentally ill female patients. The Chinese Lunatic Asylum, together with the female mental wards and the now demolished European Lunatic Asylum, were merged and called the Victoria Mental Hospital. After the opening of the Castle Peak Hospital, the Chinese Lunatic Asylum has turned into a methadone clinic since then. Known locally as the "High Street Haunted House", the female mental hospital was left vacant for about 40 years and was demolished for redevelopment in 2001, with only the granite facade and the verandas retained.
「『古蹟留聲機』- 細聽100個香港古蹟小故事」計劃由衞奕信勳爵文物信託資助。
The project is supported by Lord Wilson Heritage Trust.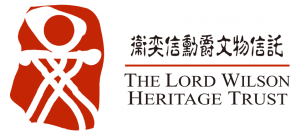 / 關於我們
CACHe於2005年成立,一直積極舉辦古蹟保育活動。我們將繼續秉承宗旨,推廣香港歷史文化,建立知識交流平台,鼓勵大眾參與社區文化遺產保育,建立社區身份認同。
/ 查詢方法
電話: 2291 0238
電郵: info@cache.org.hk
網頁: www.cache.org.hk