常豐里連接第二和第三街,是許多街坊出入的必經之路。過往不難看見區內長者在這寬闊的通道上聚首一堂,玩玩紙牌、聊聊天。
西營盤雖然是華人聚居地,路邊常設有供奉土地公的神壇,但卻不見有具規模的中式廟宇。常豐里底的一間披着紅色鐵皮的老福德宮,已是區內較大規模的街廟,於1970年代慶祝老福德宮誕時已指其有百餘年歷史,廟內神壇更刻有「宣統元年重修」,相信街廟在1909年前已經存在。過往老福德宮每年會舉辦盂蘭勝會和土地公寶誕的儀式,街坊和信眾都積極參與,相當熱鬧。可是,隨着信眾日減、籌備人手不足,儀式已逐漸簡化。
粵語:

國語:

Sheung Fung Lane is a major commuting route linking the Second and Third Street in Sai Ying Pun. This broad pathway provided a space for the elderly in the neighbourhood to chat and play card games.
Sai Ying Pun was a district largely populated by Chinese during the colonial era. Shrines dedicated to the Earth God were commonly seen on the streets. Chinese temples were, however, a rare sight. Built of red tin sheets, Fuk Tak Temple was one of the largest street temples in the area. When the Fuk Tak Temple festival was celebrated in the 1970s, it was said that the temple already had over a hundred years of history. A shrine in the temple, believed to date back to the Qing Dynasty, is engraved with the Chinese words "renovated in the first year of the reign of Emperor Xuan Tong". In the past, local residents and adherents visited the temple every year to take part in lively celebrations of the Hungry Ghost Festival and the Earth God Festival. However, the celebrations now are scaled down owing to a drop in the number of adherents and a lack of manpower to prepare for the rites.
「『古蹟留聲機』- 細聽100個香港古蹟小故事」計劃由衞奕信勳爵文物信託資助。
The project is supported by Lord Wilson Heritage Trust.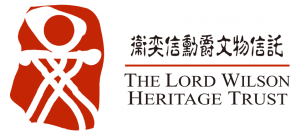 / 關於我們
CACHe於2005年成立,一直積極舉辦古蹟保育活動。我們將繼續秉承宗旨,推廣香港歷史文化,建立知識交流平台,鼓勵大眾參與社區文化遺產保育,建立社區身份認同。
/ 查詢方法
電話: 2291 0238
電郵: info@cache.org.hk
網頁: www.cache.org.hk