梅芳街原名為連溺加街,估計因當時街上滿是賣鹹魚的鐵皮屋和小販攤檔,總是飄着「霉香」味,故取名「梅芳」。西營盤「鹹魚欄」的鹹魚檔多以「上居下舖」的方式於唐樓經營,樓上用作店主和員工的居所及倉庫,樓下用作店面。鹹魚商從海邊購入漁穫後,便可在唐樓天台曬製鹹魚。當時香港的鹹魚產業十分興盛,更在1949年成立香港鹹魚行進興商會,會員數目多達六百多個,西營盤的商號更佔了九成。
時移世易,鹹魚生意經營困難,「鹹魚欄」已易名為「海味街」,梅芳街只僅存一個鹹魚檔,昔日「香港製造」的鹹魚香氣已慢慢消失。
粵語:

國語:

Mui Fong Street was formerly called Rienaecker Street. It is believed that the name "Mui Fong" — a pun on words "rotten fragrance" in Cantonese — was inspired by the scene of densely arranged tin huts and hawker stalls in the street where salted fish were sold. The place in Sai Ying Pun where salted fish sellers gathered was known as the "Salted Fish Hood". The salted fish businesses there were mostly run in shophouses, with ground floor used for trading and upper floors used as storage space and living quarters of owners and staff. The salted fish traders used to buy catches from fishermen at the seaside. They then placed the fish on the roofs of their shophouses for curing and drying. It was a time when the salted fish industry thrived in the city. In 1949, Hong Kong Salt-Fish Merchants Chun Hing Association was established. It had more than 600 members, of which 90% set up their businesses in Sai Ying Pun.
As time passed, it became more difficult for salted fish traders to run their businesses, and the "Salted Fish Hood" was better known as the "Dried Seafood Street". Currently, only one salted fish stall is left on Mui Fong Street, where the delicious smell of "Made in Hong Kong" salted fish has disappeared over time.
「『古蹟留聲機』- 細聽100個香港古蹟小故事」計劃由衞奕信勳爵文物信託資助。
The project is supported by Lord Wilson Heritage Trust.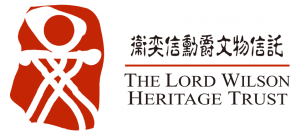 / 關於我們
CACHe於2005年成立,一直積極舉辦古蹟保育活動。我們將繼續秉承宗旨,推廣香港歷史文化,建立知識交流平台,鼓勵大眾參與社區文化遺產保育,建立社區身份認同。
/ 查詢方法
電話: 2291 0238
電郵: info@cache.org.hk
網頁: www.cache.org.hk