評級:三級歷史建築
赤柱軍人墳場是香港開埠初期的軍人墳場之一,為當時英國駐軍及其家屬的安息之地。
墳場曾經關閉數十年,暫停下葬立墓,直到1942年重開,更與香港二戰淪陷有關。在「香港保衛戰」中,赤柱一帶是香港戰敗前的最後一道防線,當時守軍與日軍在此爆發激戰並戰敗,日軍在毗鄰墳場的聖士提反書院進行大屠殺,書院一度成為拘留營。墳場重開除了安葬軍人,亦會安葬在拘留營裏因飢餓和生病而不幸逝世的平民。當時日軍對拘留營的管治較為鬆懈,故戰俘不時到墳場紀念逝去的朋友。另外,墳場內亦有三塊紀念一戰死難者的紀念碑。
粵語:

國語:

Grading: Grade 3
Stanley Military Cemetery was built in the early colonial days of Hong Kong as the final resting place for members of the British garrison and their families.
For decades, the cemetery was closed and there were no further burials or tombstones erected. It wasn't until 1942, when Hong Kong fell to the Japanese during the Second World War, that it reopened. During the Battle of Hong Kong, Stanley was the city's last line of defence against Japanese invasion. The garrison was defeated there after a fierce battle with the Japanese army. A massacre took place near the cemetery at St Stephen's College, which was then used as an internment camp by the Japanese during the occupation. The cemetery was reopened for the burials of soldiers who lost their lives in the battle, as well as civilians who died of hunger and disease in the camp. Kept under loose guard, many imprisoned soldiers sneaked out of the camp to visit their lost friends in the cemetery. Three special headstones were also erected in the cemetery to commemorate the casualties of the First World War.
「『古蹟留聲機』- 細聽100個香港古蹟小故事」計劃由衞奕信勳爵文物信託資助。
The project is supported by Lord Wilson Heritage Trust.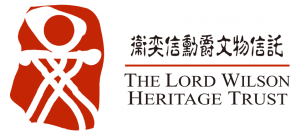 / 關於我們
CACHe於2005年成立,一直積極舉辦古蹟保育活動。我們將繼續秉承宗旨,推廣香港歷史文化,建立知識交流平台,鼓勵大眾參與社區文化遺產保育,建立社區身份認同。
/ 查詢方法
電話: 2291 0238
電郵: info@cache.org.hk
網頁: www.cache.org.hk