評級:二級歷史建築
廣福義祠別名「百姓廟」,卻曾被描述成「人間地獄」。1856年落成的義祠由本地華商集資而建,專門安放來港謀生卻客死異鄉的華人靈位。義祠後來開始贈醫施藥,並收容遺體予以殮葬,令不少病重垂危的人來到義祠「等死」,視此為人生最後的歸宿。
1869年,政府官員到義祠調查時發現衛生環境極差,出現「人屍共處」的情況,臭氣熏天。事件終令政府關注華人缺乏醫療設施的問題,在附近興建中醫院,即現時的東華醫院,是為東華三院之緣起。義祠一度被關閉重修,現由東華三院管理,仍供奉死者靈位。
粵語:

國語:

Grading: Grade 2
Known as the Pak Shing Temple, Kwong Fook I Tsz was once described as "hell on earth". Built in 1856 with funds from a group of Chinese merchants, the temple housed ancestral tablets of the mainland Chinese immigrants who worked and died in Hong Kong. It later offered free medical services to the poor and sick, and received and helped to bury bodies of the deceased. Many seriously ill patients came and spent their last days here.
In 1869, on-site investigations by the government revealed the poor hygiene in the temple, where patients shared the same space with dead bodies and a strong stench of decay filled the air. The conditions of the temple aroused the government's concern about the lack of medical facilities for the Chinese in Hong Kong. A Chinese medicine hospital — now the Tung Wah Hospital — was built near the temple, laying the foundation of the charitable work of the Tung Wah Group of Hospitals that was formed afterwards. For a period of time, Kwong Fook I Tsz was closed for renovation. Managed by the Tung Wah Group of Hospitals, the temple retains spaces for keeping ancestral tablets.
「『古蹟留聲機』- 細聽100個香港古蹟小故事」計劃由衞奕信勳爵文物信託資助。
The project is supported by Lord Wilson Heritage Trust.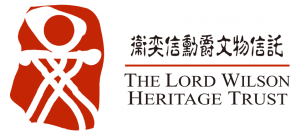 / 關於我們
CACHe於2005年成立,一直積極舉辦古蹟保育活動。我們將繼續秉承宗旨,推廣香港歷史文化,建立知識交流平台,鼓勵大眾參與社區文化遺產保育,建立社區身份認同。
/ 查詢方法
電話: 2291 0238
電郵: info@cache.org.hk
網頁: www.cache.org.hk