鳴謝劉國偉先生提供照片。 Photos courtesy of Mr Lau Kwok Wai.
評級:法定古蹟五座(主壩、主壩水掣房、記錄儀器房、溢洪壩及溢洪壩記錄儀器房)
英國在1860年獲得九龍半島後,因為缺乏適合興建水塘的地理環境,所以只興建了抽水站抽取附近井水作供水之用。
1898年香港界址拓展後,殖民地政府立即派員尋找九龍半島以北山脈適合興建水塘的谷地。九龍水塘於1906年建成,弧形的水壩設計非常獨特。值得一提的是,九龍水塘並不是位處九龍之內,而在屬於新界的沙田區內,但她是首個為九龍半島提供食水的水塘,令九龍居民不用再依賴地下水源生活。今日在上海街仍可見有一座紅磚屋,便是1895年建成的油麻地抽水站設施。
粵語:

國語:

Grading: Declared Monument (Main Dam, Main Dam Valve House, Recorder House, Spillway Dam & Spillway Dam Recorder House)
After taking the Kowloon Peninsula from China in 1860, the British government failed to find a suitable location for building a reservoir in the area, so it built a pumping station to draw water from nearby wells for fresh water supply.
In 1898, Britain further expanded its colonial territory in Hong Kong and looked for suitable reservoir sites in the mountain valleys north of the Kowloon Peninsula. Featuring a dam with a unique curved design, Kowloon Reservoir was completed in 1906. It is worth noting that Kowloon Reservoir is not located in Kowloon, but in the Shatin district of the New Territories. It was, however, the first reservoir in Hong Kong that provided drinking water to the residents in the Kowloon Peninsula, who had previously relied on underground water supplies. The red brick building you see on Shanghai Street of Yau Ma Tei was the office of one of the water pumping stations that has been preserved till date.
「『古蹟留聲機』- 細聽100個香港古蹟小故事」計劃由衞奕信勳爵文物信託資助。
The project is supported by Lord Wilson Heritage Trust.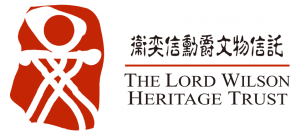 / 關於我們
CACHe於2005年成立,一直積極舉辦古蹟保育活動。我們將繼續秉承宗旨,推廣香港歷史文化,建立知識交流平台,鼓勵大眾參與社區文化遺產保育,建立社區身份認同。
/ 查詢方法
電話: 2291 0238
電郵: info@cache.org.hk
網頁: www.cache.org.hk