評級:法定古蹟二十四座(大潭篤原水抽水站、原水抽水站的煙囪體及其排煙道、高級員工宿舍、員工宿舍、第2號員工宿舍;大潭篤水塘紀念碑、水壩、水掣房、石橋四座;黃泥涌水塘溢流口、水壩、水掣房;大潭上水塘石砌輸水道、石橋、隧道進水口及記錄儀器房、水掣房、水壩;大潭中水塘水壩、水掣房;大潭副水塘水壩、水掣房);二級歷史建築三座(大潭水塘隧道出水口、大潭水塘石屋和及前黃泥涌水塘工人宿舍);三級歷史建築兩座(大潭水塘道紅磚屋及大潭副水塘工人宿舍)
開埠後市民對食水的需求持續上升,第一座建成的薄扶林水塘儲水量並不足以應付龐大需求,政府再於港島東部興建大潭水塘,在1888年落成啟用。
水塘工程中包括建造一條貫穿黃泥涌峽谷的輸水隧道,再接駁引水道供水至中環半山。在當時機械不發達的情況下,只能靠人力和簡單工具鑿穿岩石以建造輸水隧道,毫不簡單。大潭水塘比薄扶林水塘有更大的集水區,也有較先進的技術,運用抽水機調配供水,不必依賴水向低流的原理來集水。
政府在1904至1917年間於大潭水塘下游擴建三座水塘,提升供水能力,促進城市由中西區向東發展。
粵語:

國語:

Grading: Declared Monument (Tai Tam Tuk Raw Water Pumping Station, Chimney Shaft and its Flue, Senior Staff Quarters, Staff Quarters, No. 2 Staff Quarters; Tai Tam Tuk Reservoir, Memorial Stone, Dam, Valve House & Four Masonry Bridge; Wong Nai Chung Reservoir, Weir, Dam & Valve House; Tai Tam Upper Reservoir, Masonry Aqueduct, Masonry Bridge, Tunnel Inlet and Recorder House, Valve House & Dam; Tai Tam Intermediate Reservoir, Dam & Valve House; Tai Tam Byewash Reservoir, Dam & Valve House); Grade 2 Historic Building (Tai Tam Reservoir, Tunnel Outlet, Stone House & Former Wong Nai Chung Reservoir, Workmen's Quarters); Grade 3 Historic Building (Red-Brick Building, Tai Tam Reservoir Road & Tai Tam Byewash Reservoir, Workmen's Quarters)
The demand for fresh water continued to rise following the colonial establishment of Hong Kong. The storage of Pok Fu Lam Reservoir — the first built in Hong Kong — was insufficient to cater to the vast needs of water. In 1888, Tai Tam Reservoir was built in the eastern part of Hong Kong Island.
The works included the building of a water tunnel that runs through the Wong Nai Chung Gap valley and leads to the catchwater channels, conveying water to the Mid-Levels. The construction was tough given the technology at the time, as workers had to rely on simple tools to break the rocks. Comprising a water gathering ground — one that is bigger and technologically more advanced than that of Pok Fu Lam Reservoir — Tai Tam Reservoir uses pumps to lift and supply water to the residents.
Between 1904 and 1917, the government built three more reservoirs in the downstream of Tai Tam Reservoir, as an effort to enhance Hong Kong's water supply and facilitate the urban expansion from the central and western district into the eastern part of the city.
「『古蹟留聲機』- 細聽100個香港古蹟小故事」計劃由衞奕信勳爵文物信託資助。
The project is supported by Lord Wilson Heritage Trust.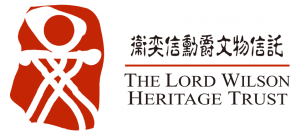 / 關於我們
CACHe於2005年成立,一直積極舉辦古蹟保育活動。我們將繼續秉承宗旨,推廣香港歷史文化,建立知識交流平台,鼓勵大眾參與社區文化遺產保育,建立社區身份認同。
/ 查詢方法
電話: 2291 0238
電郵: info@cache.org.hk
網頁: www.cache.org.hk