說到西營盤,不得不提整個地區的中心——正街,它就像一條中軸線般貫穿第一、二、三街及高街,加上兩側的東、西邊街,形成了「目」字形的街道。
不過,大家緊記不要在正街上跌東西,否則可能要在山腳撿回了。正街依山而建、十分陡斜,最高坡度有一比四之高,是全港最陡峭的四條街道之一!難以想像的是,這個大斜坡是昔日滿足居民生活所需的市集所在之地,佈滿大大小小的排檔或地攤,滿街一籮籮貨物,非常熱鬧。後來,政府為了整頓市集,便將小販安置到附近的正街和西營盤街市繼續營業,如今街道已不如往日般熱鬧。
粵語:

國語:

Be careful not to drop anything on Centre Street, otherwise you may have to walk all the way to the end of the street to pick it up. Built on the hill, Centre Street has a maximum gradient of 1 in 4 and is one of the four steepest streets in Hong Kong! It's hard to imagine that the street used to be a central marketplace where the locals purchased their daily necessities. It was a lively, bustling scene as vendors set up their stalls and filled the street with different kinds of goods. To regulate street hawkers, the government later relocated their stalls to the nearby Centre Street Market and Sai Ying Pun Market, and Centre Street has not been as busy as it used to be.
「『古蹟留聲機』- 細聽100個香港古蹟小故事」計劃由衞奕信勳爵文物信託資助。
The project is supported by Lord Wilson Heritage Trust.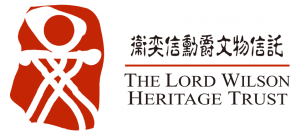 / 關於我們
CACHe於2005年成立,一直積極舉辦古蹟保育活動。我們將繼續秉承宗旨,推廣香港歷史文化,建立知識交流平台,鼓勵大眾參與社區文化遺產保育,建立社區身份認同。
/ 查詢方法
電話: 2291 0238
電郵: info@cache.org.hk
網頁: www.cache.org.hk