/超記瓷器廠
開業歷史: 1979年至今
業務: 瓷器繪製
商品: 瓷碟
地址: 坪洲永安街
過去7、80年代,離島曾經是香港工業的重地。有不少工業到窺中離島的租金與天然資源並在離島設廠,黃金時期坪洲可以找到牛皮廠、針廠、燈泡廠和灰窯廠。時至今天,這些工業今天已經式微,剩下的只有工業遺址。只有少數如坪洲的超記瓷器廠還有一家地舖繼續經營。
超記瓷器廠店東林師傅一生傳奇,小時從鄉下來港學師畫瓷器,學了兩年後便出來打工畫瓷器。他的足跡由香港的筲基灣到深水埗,後來更由朋友介紹到新加坡和澳門的瓷器廠當老師教員工畫碟。直到73年,收到舊顧主的邀請回到香港坪洲繼續畫瓷器。後來於76年便跟太太成立了超記瓷器廠,當初還要跟行家借爐燒碟。其後的生意越來越好,「在79年是生意高峰時期,坪洲有4、5個地方做生產,繪畫瓷器連開爐燒碟的有30多人。當年超記的瓷器在尖沙咀及赤柱等遊客區的商店也可找到。」店東林師傅憶述。但在80年代開始,由於大陸貨湧入令超記的生意大不如前,林師傅便離開老本行出外打工幫補家計,從事過搭棚、泥工、建築業等,其間也是林太一人畫瓷器及打理生意。退休後的林師傅直到2012年才再執筆畫碟,重操故業。
現在的超記仍有出產手繪瓷器,但一般也很難維持生計,除了租金外,即使是大陸來貨的基本料價格也越來越貴。所以林師傅及林太也會舉辦工作坊,除了幫補收入外,更讓大眾賞試手繪瓷器,並替他們燒碟讓成品帶會家,替這個香港本土的夕陽工業留下回憶。
Chiu Kee Porcelain
Timeline: Since 1979
Business Type: Pottery and Porcelain Production
Products: Hand painted porcelain plates
Address: Wong On Street, Ping Chau
The outlying islands were once thriving industrial powerhouses in the 1970s and 1980s. Many were attracted by the lower rent and natural resources on the islands and set up their business there. Leather factory, needle factory, light bulb factory and lime kiln could all be found in Peng Chau during its golden era. With the decline of the industries, empty sites are what being left on the island. Chiu Kee Porcelain is one of the few workshops that are still running today.
The owner, Master Lam, has a life full of stories. He came to Hong Kong from the village to learn the skills of porcelain painting. After two years of apprenticeship, Mr. Lam became a porcelain painter. His footsteps were all over Hong Kong, from Shau Kei Wan to Sham Shui Po. Later, he was introduced by a friend to teach porcelain painting in factories in Singapore and Macau. In 1973, his old employer invited him back to Hong Kong. He then continued his porcelain craftsmanship on the island of Peng Chau. In 1976, Master Lam established Chiu Kee Porcelain with his wife. In the beginning, he had to borrow utensils from his counterparts to fire plates but his business was getting better and better. "During the heyday in 1979, I had 4 or 5 production workshops in Peng Chau with more than 30 staff. My products could be found in touristic districts such as Tsim Sha Tsui and Stanley," Master Lam told us. Yet, the influx of mainland goods in the 1980s deeply affected the business of Chiu Kee. Master Lam needed to take other jobs outside to supplement family income. He had been mason, engaged in scaffolding and construction etc. During that period, Mrs. Lam continued to paint porcelain and take care of the business. Later, Master Lam retired. Not until 2012 that he has started to paint porcelain again.
Chiu Kee is still producing hand painted porcelain wares but they can't make you a living. Apart from high rent, raw materials from the mainland are more expensive than before. Therefore, Master and Mrs. Lam are organizing workshops for interested parties to increase income. People can experience and have fun in making their own porcelain plates to bring home. The workshops also help passing on the memory of this sunset industry to the public.
林師傅聚精會神地繪畫瓷杯。
The Master of porcelain painting, Mr. Lam, is concentrating on painting.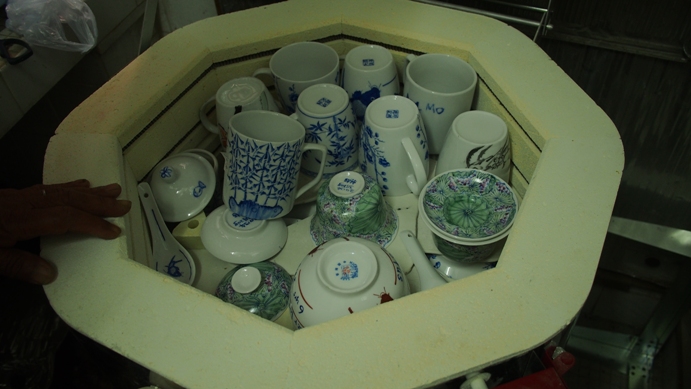 已經燒製好的瓷器。
The final product of porcelain.