第六站/ 德昌森記蒸籠
Sixth Station/ Tuck Chong Sum Kee Bamboo Steamer Co.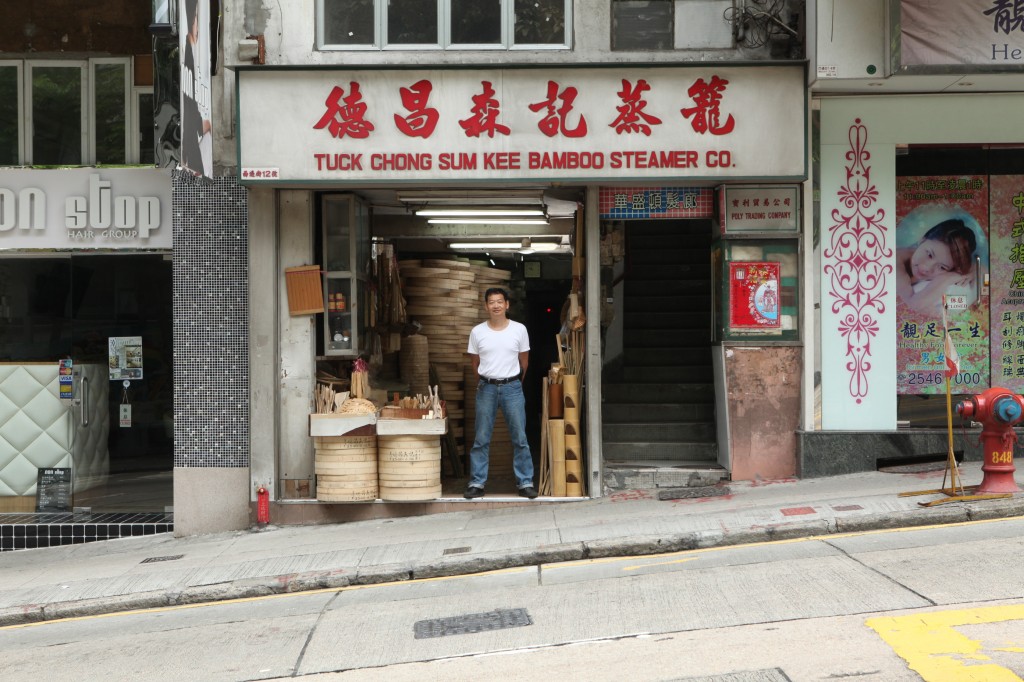 開業歷史/ 1900年初
業務/ 竹製蒸籠
地址/ 西邊街12號
德昌森記屹立於西營盤三十多年,老闆林應鴻先生已經是第五代的傳人。五十年代末,這百年寶號從廣州遷到香港發展並落腳西營盤,方便交貨予中、上環的酒家,包括蓮香、陸羽、得男和多男等。德昌森記不單見證著西營盤發展,更印證了香港的歷史變遷。隨著七、八十年代移民潮興起,國外多家酒樓應運而生,因此德昌森記接了大量國外訂單,銷路遠至歐美等地。
資深饕客認為應用傳統廚具烹煮料理才算正宗,竹籠擁有透氣質料和淡淡竹香,令食物的水份和風味得以保持,故此竹籠在飲食界的地位遠比塑膠和不銹鋼製品高。林師傅每天在店舖默默耕耘這門手作,店內洋著溢疊疊蒸籠的清香,面門亦擺放了形形式式的竹製用具如筷子、竹籮和筆筒等,供家庭顧客使用。
Opened/ Early 1900
Business/ Bamboo-made Steamer
Address/ 12 Western Street
Tuck Chong Sum Kee Bamboo Steamer has existed in Sai Ying Pun for more than 30 years, and the shop owner Lam Ying Hung is the 5th generation successor. In the
late 1950s, this one-hundred-year-old shop relocated from Guangzhou to Hong Kong to continue its business. It established itself in Sai Ying Pun, where it was convenient to deliver its goods to traditional Chinese restaurants in Central and Sheung Wan. These restaurants included Lin Heung, Luk Yu, Duk Nam and Dor Nam. Tuck Chong Sum Kee has not only witnessed the development of Sai Ying Pun, but also serves as a living proof of the history of Hong Kong. As Hong Kong citizens started to leave during the immigration tide in the 70s and 80s, traditional restaurants started to emerge overseas. As a result, Tuck Chong Sum Kee received a lot of orders from abroad, including Europe and America.
Customers who are experienced connoisseurs think that authentic cooking can only be achieved with traditional cooking tools. Since the texture of bamboo steamers is air-permeable and has the fragrance of bamboo, they help to preserve the flavour and moisture of food. That is why the status of bamboo steamers is much higher than steamers made of plastic and stainless steel. Master Lam works hard on his hand-made crafts in the shop every day. The whole shop is filled with the elegant smell of bamboo and one can find different bamboo-made domestic products like chopsticks, baskets and pen holders in the shop.
連結 Links/
上一站/ 正佳鞋 Previous Station/ Very Good Trading Co.
下一站/ 伍惠記 Next Station/ Ng Wai Kee
西營盤歷史文化徑/ 傳統行業與街舖 Sai Ying Pun Heritage Trail/ Traditional industries and Street Shops
西營盤歷史文化徑首頁 Sai Ying Pun Heritage Trail/ Main Page