/世光酒藥行
開業歷史: 1946
業務: 雜貨
商品: 酒、藥物、煙草、個人護理產品、化妝品
地址:深水埗北河街90號
自1963年開業的世光酒藥行,現任東主梁秉輝先生已是第三代的掌櫃,他憶述他的爺爺早期在中環文咸街開設總局,店舖名為「梁國英報藥局」,而且那時主要從事漂染和出版書籍工作,在高峰期,曾坐擁十多間分店,時移世易,現在只剩下兩間店舖。
由於梁先生不希望倚靠父親的名字來經營,他希望可以獨立自己創業,因此現址深水埗北河街一舖,是梁先生自購得來的,而"世光酒藥行"這個店名是記載梁先生創業的一個証明。
以前世光酒藥行售賣散酒為主, 把蒸好的米酒再拿到閣樓浸泡數天後才出售,但現在已經沒有售賣了。取以待之的是直接向總代理購買貨品的。
一年中店舖最旺的時候便是在中秋節及新年時。雖然現在外間有不同的店舖,如集團式經營的超市等),但梁先生認為這樣並不會影響他們的生意。由於他對一眾街坊的情誼很有信心,加上店舖字號老,已經積有一班的固定的客源。
/ Sai Kwong Hong
Timeline: Since 1946
Business Type: Groceries
Products: Wine, medicine, tobaccos, personal health care products, cosmetics
Address: 90 Pei Ho Street, Sham Shui Po
Mr. Leung is the 3rd generation owner of Sai Kwong Hong since its opening in 1963. He still remembers when his grandfather established "Leung Kwok Ying Medicine Co.," in Bonham Street, Sheung Wan years ago, the family had more than 10 branches mainly doing dyeing and publishing business. Now, only two are left.
Mr. Leung did not want to reply on his father's reputation to run his business. He hoped to start his own business. Therefore, he bought the site of the current shop in Pei Ho Steet, Sham Shui Po. The name Sai Kwong Hong represents the foundation of Mr. Leung's entrepreneurship.
In the past, Sai Kwong Hong used to sell bulk wine, soaked steamed rice wine at the attic for a few days before retailing. Now, they no longer sell in this way. Instead, they order wine from the distributor directly.
The busiest periods of the year are during the Mid-Autumn Festival and the Lunar New Year. Although more and more shops are coming into the competition e.g. supermarkets and chain stores, Mr. Leung does not think they would affect his business much. He has faith in his long established good connection with the neighborhood. His shop has accumulated a lot of regular customers throughout the years.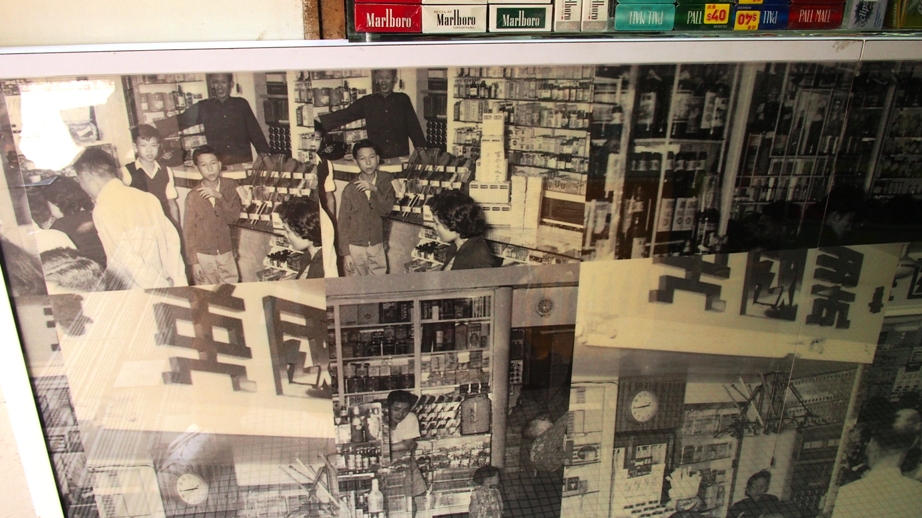 店內櫃檯放著老店的舊照片。
The reception displays some old photos of the shops.
店內售賣不同的藥膏,為街坊提供全面的保障。
The are some different kinds of salves for the neighbor.