/日牌梁財信跌打醫藥局
開業歷史: 約百年
業務: 跌打醫藥局
商品: 跌打服務
地址:深水埗桂林街38號D地下
梁漢文師傅是日牌梁財信跌打醫藥局是第四代傳人。他10多歲畢業後便跟爸爸梁東海、哥哥和老師傅學師,今年已經60多歲了。第1代東主梁財信早於民國初年已創辦跌打醫藥局,兒子梁東海因逃避戰火來到香港,便在上環開辦跌打醫藥局,後來搬到深水埗現址。
跌打主要是醫治扭傷,骨腫,筋傷等痛症。相比起現今外間有照燈,又有熱敷等五花八門的技巧,梁師傅憑多年累積的經驗判斷痛症的原因,並一直原用傳統的手勢和技巧醫治。
趺打醫藥局初期有自製藥丸和藥酒賣,初期的藥丸是球狀的,外面是用蠟來把藥丸保存,後來老師傅離世後便沒有再製藥。而現時趺打醫藥局的藥酒都是由梁漢文師傅在公餘時間製的。另外,趺打醫藥局亦有口服的藥粉,有舒筋活洛的用途。
自中醫發牌制度後,新一代的執業醫師要完成基本的中醫學士課程才可領牌執業,靠的是個人興趣與學習中醫的能力。這新制度把趺打醫藥行業傳統扭轉,今後不一定再是以父傳子或師徒制的方式把醫術傳授。
/ Leung Choi Shun Medicine Co.
Timeline: Around hundred years
Business Type: Chinese medical services for joint and bone
Products/Services: Joint and bone setting, medicinal powder, medicinal wine
Address: G/F 38D, Kweilin Street﹐ Shum Shui Po
Master Leung Hon Man is the 4th generation of Leung Choi Shun Medicine Co. After his graduation, Mr. Leung began his apprenticeship with his father Leung Tung Hoi, his brother and the old master physician. Now, Mr. Leung is already in his 60s. The 1st generation owner, Leung Choi Shun started this business as early as during the Republican period. His son Leung Tung Hoi fled to Hong Kong in order to escape war. He then set up Leung Choi Shun Medicine Co. in Sheung Wan. The shop later moved to its current location in Sham Shui Po.
Bone and joint setting mainly heals bruises, sprains, bone swelling, muscle pain and other injuries. Comparing to today's light or heat medical methods; Master Leung insists in determining the cause of pain with his accumulated years of experience and expertise. He carries on using traditional techniques and skills to heal the patients.
Leung Choi Shun Medicine Co. sold homemade pills and medicinal wine in the early days of business. The early pills were in ball-shape coated in wax for preservation purpose. However, after the old master passed away, they no longer produce medicine. The medicinal wine nowadays is made by Mr. Leung during his leisure time. Additionally, Leung Choi Shun Medicine Co. does provide patients with oral medical powder for easing bone and joint pain.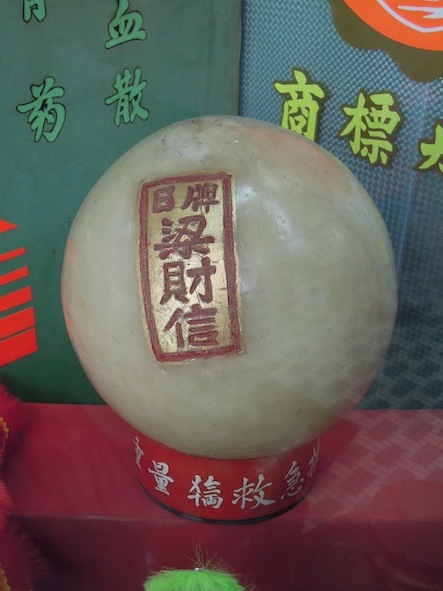 早期信跌打醫藥局自家研製的藥丸。
The homemade medicine invited by the Leung Choi Shun Medicine Co..
店內放滿了證書及獎狀以及一些早期的照片。
The old photos and certificates were displayed on the wall.