評級:三級歷史建築兩座(主樓、校舍)
位於上水的松柏塱是一條雜姓村,由五個氏族共同建造,村前有五間整齊排開的祠堂。香港現存最古老的村校——博文學校,本來只是松柏塱村內自設的鄉村私塾,於1919年前已創立。至1919年,村中長老發起募捐,籌建兩間新課室,即現存祠堂旁邊的第二及第三室,當時的學生仍以村內子弟為主。
博文學校後來成為新界第一所註冊學校及最早期的資助學校之一。學校曾三度進行擴建工程,現存校舍則於1962年擴建而成。博文學校逐漸發展成一所完善的小學,並廣收村外學生,高峰期有七百多名學生,可惜學校最後仍因收生不足而在2005年停辦。
粵語:

國語:

Grading: Grade 3 (Main Block & School Building)
Situated in Sheung Shui, Tsung Pak Long is a village built by five different clans. Five ancestral halls can be found neatly arranged at the entrance of the village. Bok Man School is the oldest surviving village school in Hong Kong. It was initially a private school established by the villagers before 1919. In 1919, elders of the village raised funds to build two new classrooms for the school — the current rooms two and three next to the ancestral hall. At that time, students of the school were primarily children in the village.
Bok Man School later became the first registered school in the New Territories and one of the earliest aided schools in the area. The school building has been expanded three times. The existing school campus is the result of the expansion work carried out in 1962. The school, which became well-developed over the years, had more than 700 students at its peak. Nevertheless, the school had to cease operation in 2005 due to insufficient enrolment.
「『古蹟留聲機』- 細聽100個香港古蹟小故事」計劃由衞奕信勳爵文物信託資助。
The project is supported by Lord Wilson Heritage Trust.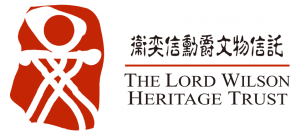 / 關於我們
CACHe於2005年成立,一直積極舉辦古蹟保育活動。我們將繼續秉承宗旨,推廣香港歷史文化,建立知識交流平台,鼓勵大眾參與社區文化遺產保育,建立社區身份認同。
/ 查詢方法
電話: 2291 0238
電郵: info@cache.org.hk
網頁: www.cache.org.hk