/集蘭冰室
開業歷史: 約1960年
業務: 飲食業
商品: 食物及飲品
地址: 九龍青山道520號地下
1960年開業的集蘭冰室前名為集蘭士多(辦館) ,於1970年轉為飲食業並轉名為集蘭冰室。店東胡先生是第二代,從1996年開始親自執業至今。
胡先生的爸爸最初在長沙灣附近的酒樓上班,便熟悉這區特色,亦建立了很多的人脈關係,令他決心在這區開辦集蘭士多經營自己的生意。70年代的工業蓬勃,特別是製衣業,塑膠業。隨著工廠及工人的數量增加,對食肆的需求大增,老胡先生便看準商機,把辦館轉型,在深水埗經營餐飲業。
胡先生回想起以前70年代的冰室只會有簡單的通心粉、即食麵、西餅、飲品,三文治或麵包等輕食。直到了80年代,社會及飲食文化的轉變,令冰室隨大勢所趨便推出飯食。多年來胡先生與街坊關係都很好,經常與顧客交流和分享,所以熟客都來光顧,更有些成為朋友,互相交流和分享。
/Chap Lan Café
Timeline: Since 1960
Business Type: Catering
Products: Food and Beverage
Address: G/F, 520 Castle Peak Road, Kowloon.
Opened in 1960, Chap Lan Café was formerly known as Chap Lan Store. It transformed into catering business in 1970 and was renamed as Chap Lan Café. The owner, Mr. Wu, is the 2nd generation. He took over the café business since 1996.
Mr. Wu's father worked in a restaurant near Cheung Sha Wan before setting up his own business. He had already developed a good network in the area and was determined to open his store. The industrial boom in the 1970s was a good opportunity for everyone. The prosperous garment and plastic industries contributed in an increasing number of factories and workers in the area. Mr. Wu spotted the opportunity that demand for good grew drastically. He then transformed his store into catering business in Sham Shui Po.
Recalling from his memory, Mr. Wu said café in the 1970s only served simple food such as macaroni, instant noodles, cakes, drinks, sandwiches and bread. Until the 1980s, there was a social and cultural change in diet. Following the trend, Mr. Wu launched rice meals for the customers. Over the years, Mr. Wu has established very good relationship with the neighborhood. He becomes friend with many and often shares and chats with his customers.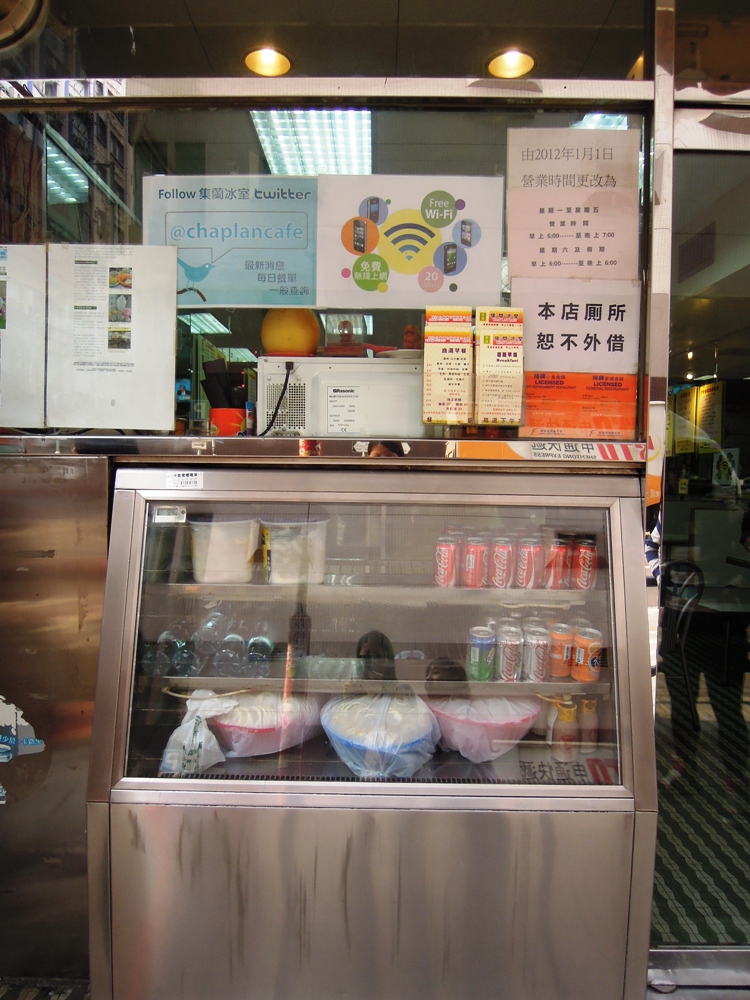 巧妙的設計靈活運用了店舖內外的空間。
The design of the display showcase cleverly applied the space outside the shop.
店舖雖然已經裝修翻新但店東仍選擇這舊式的階磚。
Even the shop has been renovated, but the owner still tends to use the old-fashioned floor.